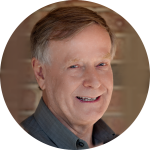 David Powlison set the stage for the CCEF 2017 Conference on the topic of family. He asked us how we can embrace the blessing of family and face the brokenness without becoming either idolatrous or depressed. In life there are really high joys and really low valleys. For example, Powlison shared how his daughter gave birth to another child, but on that very same date his nephew passed away from a heroin overdose.
How do we embrace the good things of life without becoming idolatrous? And how do we face the bad things in life without being overwhelmed, depressed, and fearful?
Powlison explained that we must not be defined by our roles or our family. He asked us, "What defines you?" Powlison explained that family is similar to our health. It matters, but does not define one's identity. You are not defined by a friendship or job or denomination. You are not defined by your ethnic background. As a follower of Christ, "You are defined by relationship with the living God."
So as we set out on this journey of understanding what God is doing in our lives, we must remember that we belong to Jesus Christ and have been bought by his blood. "God is up to something good in your life, that defines you."
Powlison then went through the book of James explaining that there is joy in knowing that the trials we face in life will produce something beautiful. We should consider it complete joy when we face various trials knowing the purpose of them. Trials can be likened to training camp for sports. As we go through it, we may be awkward at first but we become refined and more like Christ as we go through the fire.
What does it mean to face testing and various trials? The hard things in life are part of the trials, but hard things are only part of what James talks about. We need to have a broader view of what constitutes a trial. Being rich or being poor are trials in different ways. Even something like executing an exciting business plan can be a trial. Do we commit our futures to the Lord?
The principles from the book of James apply in every family situation. For example, how we talk with our mouths or how we react to other people that are going through heart ache (like orphans and widows in affliction), will show us how well we know God.
Because we lack wisdom for life's trials, we need to ask God for help. We ask God for help because he gives freely and generously. As we mature, we ask God for things that we really need because we know how life works and we know that God is accomplishing his good purposes in us.
We should ask God for wisdom, knowing that we have a God who never tires of doing good to his children.
He who did not spare his own Son but gave him up for us all, how will he not also with him graciously give us all things? –
<< View the other CCEF17 main session summaries here. >>
32 He who did not spare his own Son but gave him up for us all, how will he not also with him graciously give us all things? (