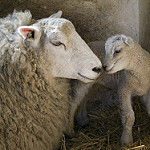 Paul was gushing with confidence in God's ability to complete his work in his fellow Christians. In Paul's letter to the saints in Philippi, he says this: "And I am sure of this, that he who began a good work in you will bring it to completion at the day of Jesus Christ." – . Paul was sure of it. He knew God as the author and perfecter of our faith. Bet on it: what God starts, he finishes!
This should give us supreme confidence in relational conflicts. If our confidence was in our own ability to control a situation, we would be on shaky ground, but our confidence is in God's sovereign control and promises. God is doing something we can not see. His wisdom is above ours and his plans are not our plans. We can be sure that God will not lose any of his precious sheep. His sheep hear his voice and no one will snatch them out of his hands ().
Do we press on in conflict, knowing that God is in the transformation business? Or do we become impatient and give up hope that a brother or sister in Christ can change? That messed up Christian next to you (never mind looking in the mirror!) will one day be transformed into God's image. To give up hope in God's ability to transform is to forget the power of the gospel.
As Christians, we understand our brokenness and know how hard it is to change because we ourselves suffer with sin. But thanks be to God, he will deliver us from our sin (). As citizens of heaven, we ask God to rule over our hearts and pray that all things would be subject to him. Paul declares his hope this way: "But our citizenship is in heaven, and from it we await a Savior, the Lord Jesus Christ, who will transform our lowly body to be like his glorious body, by the power that enables him even to subject all things to himself." ()
"Lord, rule over my heart." This should be every believer's cry. "Have all of me.  Your will be done." Instead of focusing on others reactions, we should focus on how we can act in faith and love in any conflict. We leave the results to God. We are called to act out of love with self-awareness and other awareness. We are people in need of change, helping others in need of change.
We are called to trust and rest in God and respond in love and total dependence on God. Total dependence on God. He asks for nothing less. Herein lies true freedom. Jesus was sustained by doing the will of his Father (). Apart from him we can no nothing!
Peacemaking isn't for the hopeless, rather peacemaking is for those who have a living hope. Our hope is based on the finished work of Christ on the cross (). Because Christ suffered, died, and rose again, being victorious over sin and death, we have a living hope. Christ is a sure anchor for our soul. We are called to run the race of faith, fixing our eyes on Jesus, and pressing on for the prize of the upward call of God in Christ Jesus, for it is God who works in us to will and to work for his good pleasure.
Conflict provides opportunities for us to glorify God, to serve others, and to grow to be like Christ. Each conflict we encounter is an opportunity for us to reflect and display the heart and character of Jesus! So stare your fellow sheep in the face and tell them this: I am confident of this, he who began a good work in both you and I will bring it to completion at the day of Christ Jesus.
Now may the God of peace who brought again from the dead our Lord Jesus, the great shepherd of the sheep, by the blood of the eternal covenant, equip you with everything good that you may do his will, working in us that which is pleasing in his sight, through Jesus Christ, to whom be glory forever and ever. Amen. –
Prayer: Lord Jesus, be my living hope. You are the great shepherd of your sheep. Have your way in me and let the peace that you purchased for me on the cross rule in my heart. Help me to respond in faith and love the next time I face a conflict. Bring each one of your sheep home to heaven, pure and blameless because of your finished work on calvary. Equip us with everything good that we may do your will. Come quickly Lord Jesus and establish your reign. Start with me. Amen!
photo credit: Kissing via photopin (license)
6 And I am sure of this, that he who began a good work in you will bring it to completion at the day of Jesus Christ. (
28 I give them eternal life, and they will never perish, and no one will snatch them out of my hand. (ESV)
24 Wretched man that I am! Who will deliver me from this body of death? 25 Thanks be to God through Jesus Christ our Lord! So then, I myself serve the law of God with my mind, but with my flesh I serve the law of sin. (ESV)
20 But our citizenship is in heaven, and from it we await a Savior, the Lord Jesus Christ, 21 who will transform our lowly body to be like his glorious body, by the power that enables him even to subject all things to himself. (ESV)
34 Jesus said to them, "My food is to do the will of him who sent me and to accomplish his work. (ESV)
19 We have this as a sure and steadfast anchor of the soul, a hope that enters into the inner place behind the curtain, (ESV)
20 Now may the God of peace who brought again from the dead our Lord Jesus, the great shepherd of the sheep, by the blood of the eternal covenant, (ESV)