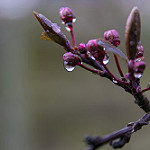 Recently I was amazed at our persecuted brothers and sisters in Egypt who were praying for the evildoers that sought to murder them. These Christians understood that evildoers can take their life but not their living hope in Christ Jesus (, ). One persecuted leader, Fr. Boules George, explained that his prayer for his enemies was in faithful obedience to scripture.
43 "You have heard that it was said, 'You shall love your neighbor and hate your enemy.' 44 But I say to you, Love your enemies and pray for those who persecute you, 45 so that you may be sons of your Father who is in heaven. For he makes his sun rise on the evil and on the good, and sends rain on the just and on the unjust. – .
I was struck by how the Gospel of Matthew ties God's common grace to all men as one reason why we should pray for and love our enemies. As often as God sends rain to water the earth, we should send prayers up to God on those who persecute us. Praying for our enemies is one way we can love them. We should actually pray for all people (), including unsaved loved ones that we love dearly or even our enemies who persecute us. What can we pray for specifically on those who persecute us and do not fear God? How about praying for their repentance?
What does repentance look like?
By [repentance], a sinner, out of the sight and sense not only of the danger, but also of the filthiness and odiousness of his sins, as contrary to the holy nature, and righteous law of God; and upon the apprehension of His mercy in Christ to such as are penitent, so grieves for, and hates his sins, as to turn from them all unto God, purposing and endeavouring to walk with Him in all the ways of His commandments. – WCF 15:3
God's forbearance on evildoers is not for naught. He is storing up holy wrath against evil. The patience and delay of our Lord's awesome wrath and justice is meant to lead sinners to repentance (). God commands sinners everywhere to repent (, , ,). Repentance is a matter of life and death. Without it, there can be no salvation (). It is a fearful thing to fall into the hands of the living God ().
Praying for those who don't deserve our love shows that we are children of God, for the power to do this is supernatural. This prayer can only come from a humble heart that realizes that we don't deserve God's love either (). Consider the attitude of Stephen who prayed for his murderers () or the actions of David who spares the life of Saul on more than one occasion, even though Saul was determined to destroy him (). Certainly these men understood God's heart.
For I have no pleasure in the death of anyone, declares the Lord God; so turn, and live. – .
We must see repentance as a matter of eternal life or death. Knowing the fear of the Lord, we persuade others (). Christ followers must proclaim the good news of the gospel, proclaiming that forgiveness comes through faith and repentance.
Repentance is a beautiful thing. And we should plead with God to grant the grace of repentance.
Just so, I tell you, there will be more joy in heaven over one sinner who repents than over ninety-nine righteous persons who need no repentance. –
As Thomas Watson explains, "Until sin be bitter, Christ will not be sweet."  We should pray that sin would be bitter to us and to those we love. Watson explains that "Repentance is the inlet to spiritual blessings… Never do the flowers of grace grow more than after a shower of repentant tears." Picture the fruit of repentance like flowers growing after the gentle rain.
How often do you pray that you would bear fruits in keeping with repentance? Repentance does not end once a person becomes a follower of Christ. We will sin until the day we die, so we are to live a life of repentance, even while waiting for God to deliver us (). Thomas Boston explains: "Repentance itself is not a passing act, but an abiding grace; a continuing frame and disposition of the soul; a principle lying deep in the heart, disposing a man to mourn for and turn from sin on all occasions." If we claim to follow Jesus Christ, we should seek to bear fruit in keeping with repentance (), bearing our cross daily and dying to ourselves to follow Him.
I would encourage you to pray the following prayer of repentance for yourself:
Lord God, help me to hate sin as much as you do. My sin put you on the cross. Make me miserable when I sin. May sin be odious and filthy to me. Help me to grieve over my sin and hate my sin. Sin is an offense against your great name. In my foolishness, I live as though there are things you created that are more satisfying than you. I live as though you are not the greatest thing ever. Forgive me and be merciful to me because Jesus died for my sin. May my sin become ever so bitter, so that Christ becomes ever so sweet. The one forgiven much loves much and the one forgiven little loves little. Help me to be one that loves you and others much since you have forgiven me of all of my sins! Help me to live a life full of love and devotion to you. You loved me and gave yourself for me to free me from slavery to sin. Make me a slave of righteousness. May transgressors see your ways and may sinners return to you (). May your great name be praised!
Then modify this prayer by inserting the name of your loved ones who are not walking with the Lord or even the name of your enemy!
photo credit: Nederland in foto's Waiting for the sun via photopin (license)